Artist & Author Bio Notes
"

There is nothing I will ever have that can repay God in Heaven for the Freedom I've received for my eternal soul and no words which can even begin to express my appreciation for those who have served in harm's way in safeguarding my Liberty & Safety on earth; but I hope to honor and remember all by offering back whatever my Creator has given me for as long as I am able and in the ways that The Spirit of the Lord is leading." - Ann M. Wolf
— Servant to God & supporter of others as we travel this road of life together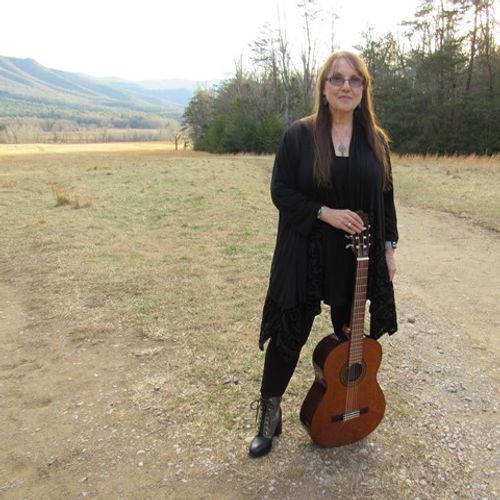 About Ann M. Wolf
A Voice for Freedom
About Ann M. Wolf: She is a Multi-lingual Songwriter & Recording Indie Artist that composes & sings in a wide variety of genres, from Blues to Bluegrass; but no matter the style, she always offers a message of Hope, Healing, Unity & Redemption. Read more about Ann's recordings.
Songwriting & Performing: Ann has been writing, recording & performing her own spiritually-based music & narrations for over four decades. She has been a solo or contributing artist on over 20 albums. She has performed in special events, music venues, conferences & honor ceremonies over the years as well as having had the leading roles of Mary & Mary Magdalene in theatrical productions, both in the USA & in Europe. Read more Bio.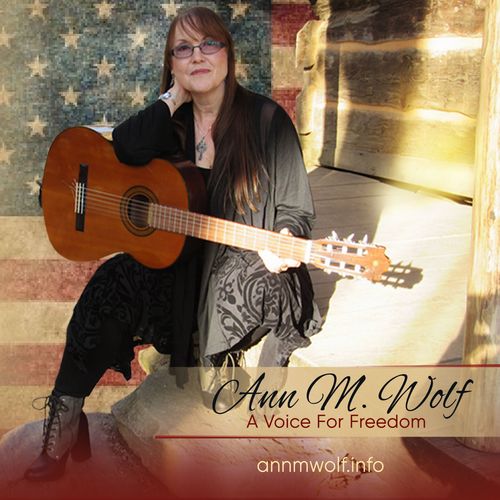 About Ann's Presentations
Two Kinds of Freedom
Currently Ann is devoted to composing, writing, speaking & singing about two kinds of Freedom, the first being the Freedom we gain for our soul via our personal relationship with God. The second is Liberty of Life which has been made possible by our Constitution and sustained by those who have served in harm's way from the inception of our nation. 
Ann tours the USA lending her support to a wide variety of causes via her music, invocations, special ceremonies, and other artistic presentations on a variety of themes. These include honor ceremonies as well as programs which provide encouragement throughout the journey to healing & recovery from illness, injury, or addiction. Ann also offers a special interdenominational Communion Service, a Blessing of the Bikes & Bikers as well as life-application workshops for the spiritually minded. Read more.
"

Ann, I feel fortunate to have become acquainted with you. You are a true patriot and supporter of us Vets. Your music is unique and very well done. You are a real talent. Keep up the great work. I'm a Vietnam Vet, and I'm an old outlaw biker. I wanted to personally thank you for posting the video link to "After Vietnam, the Healing." It brought tears to this old man's eyes. I shared it as well. Thank you so very much. Oh...And "Nothing But The Blues Without You" is truly the BOMBDIGGITY ! You are an exceptional talent."
— Jim Leonard, Vietnam Vet, Patriot Biker (Old outlaw biker)
Audio/Visual:  The main ways in which Ann expresses the values as just described, is through the creation of specially-crafted songs, albums, narrations, blogs, books, and public presentations which address both Freedom of Soul & Liberty of Life as well as topics such as healing, recovery, and unity via our mutual connection to the Spirit of God. Read more about available presentations for your special service or event.
Genres that dare to be different: Ann's music composition & performance style is varied, from Blues to Bluegrass and from contemporary to classic, but the message is always one of hope while promoting compassionate action as we learn to take the love of God with us everywhere we go. For decades Ann has dared to write songs in styles which some in religious circles might say are "too worldly." However, Ann shares her soul's journey in authentic style as she speaks directly to the heart of others about real-life challenges in a musical language that is easy to understand. Read more.
Broadcasting & Social Media: In addition, she broadcasts via Internet Radio & TV, several websites, plus YouTube, Twitter & Facebook as well as other newer social-media platforms. Read more about Ann's additional profiles.
"

It is such an Honor & I am Humbled to know you as a friend, as a Chaplain & as all veterans' Hero across this nation. Thank you Ann for all you do for us."
— Steve Isaacson, Disabled Vietnam Veteran, Advocate for Veterans
Message, Mission & Vision